---
Posted: 08 Jul 2010 03:52 PM PDT
Past politicians equally guilty for their indifference
Posted: 08 Jul 2010 01:00 PM PDT
The current political climate in Malaysia is at its near boiling point. Any wrong move would be catastrophic for the nation. And it is sure to set the people on a backward course from other neighbouring countries.

For a nation that was once prided as the 'Rising Tiger of Asia', today we are being sneered at by the global village. Our sins of sex, sleaze, greed, abuse of power, corruption, and the many crimes of omission - all these are getting us deeper into the rut.

In the wake of these turbulent times, our past politicians who rode the high waters of success, benefits and luxury remain indifferent to what is happening within our political deep waters here.

Some of these past politicians are basking in the gains of their spoils here and overseas. Some are milking through their banking networks overseas while others are basking on the Gold Coast. Many more are in all probability enjoying the sunshine, wine, dine and songs in far away breakaway destinations.

And likewise, others are quietly raking in millions here while the sagas of sin and sleaze build up to a crescendo.

It is about time that all these personalities are identified and exposed. They have a categorical and moral responsibility to speak up and gang up to do something constructive to save this nation.

Let us hope that some responsible blogger or hard-working parliamentarian can kick the ball to bring out these past politicians who gained every sen from the rakyat and are today enjoying their ill-gotten gains and reaping the fruits of their time in power.

A silent and indifferent past politician is nothing more than a traitor to king, nation and citizenry.
See What Barisan Nasional Gotta Say?
Making Use of Non-Malays, the Perkasa & Dr M Way
Posted: 08 Jul 2010 12:00 PM PDT
Dr Mahathir Mohamad tonight jumped into the debate over Kampung Barus proposed redevelopment, saying it must also involve the non-Malays.
The former prime minister pointed out that the inclusion of non-Malays will make Kampung Baru more attractive to not only foreigners but also local visitors.
If not then the Malays wont come because some of them think that Malays cant do business. So we want to use the non-Malays as bait to lure more visitors, said Dr M.
Ibrahim Ali said that the Malay rights group has always believed the involvement of non-Malays is important in bringing capital for investment.
We have our stand that component projects such as hospital and hotel as we cannot rely on taxpayers money. We need investors so I dont think its wrong if certain projects where non-Malays own 60 per cent. If not, then the redevelopment of Kampung Baru wont be a reality because of the construction and value of the property. So who will buy? So we have to take [this into] account.
I read the statement from both politicians with a tinge of sadness. First, they want the non-Malays to be involved in the Kampung Baru redevelopment as a bait to lure more visitors. Second, these two are the same people who had viewed the non-Malays especially the Chinese Malaysians as a threat to the Malays.
Both Dr M and Ibrahim should accept and recognize the fact that non-Malays had contributed significantly to the development of this country. Their involvement had made KLCC, Bangsar, Mont' Kiara and other high valued developments successful and attractive.
Second, both Dr M and Ibrahim should help to answer why an area like Kampung Baru cannot be successful if it were to remain exclusively for Malays only. This is a multiracial country and any geographical area which does not reflect this reality will not be successful.
Non-Malays should not only be viewed as a bait in the redevelopment of Kampung Baru but equal partners. It is time for leaders to look at win-win partnership a! mongst a ll Malaysians.
How can this country prosper if the government does not embrace the best from other races? It should learn to appreciate its own diversity before preaching to others to do so.
See What Pakatan Rakyat Gotta Say?
Posted: 08 Jul 2010 11:00 AM PDT
By donplaypuks
The 112th anniversary of the publication of the most famous denouncement in the history of the world of a racist conspiracy quietly passed us by on 13th January. The French writer Emile Zola took on the might of the entire Government of France when he sounded that clarion call for justice in the L' Aurore newspaper in Paris on 13th January 1898.
'Jaccuse or I Accuse represents the triumph of human intellect, endeavour, strength and resolve over hopeless odds when faced with institutionalised government thuggery and gangsterism.
I had recourse to JAccuse in an earlier blog in 2008. click here.
There are other epochal markers for human intellectual development like the 1776 American Declaration of Independence with its doctrine of self- evident truths, that all men are created equal by their Creator with inalienable human rights, that among these are Life, Liberty and the pursuit of Happiness, and......that:
Governments are instituted among Men, deriving their just powers from the consent of the GOVERNED.
Were you not inspired by Lincolns Gettysburg Address?:
Four score and seven years ago our fathers brought forth on this continent, a new nation, conceived in Liberty, and dedicated to the proposition that all men are created equal.
.... that we here highly resolve that these dead shall not have died in vain - that this nation, under God, shall have a new birth of freedom and that a government of the people, by the people, for the people, shall not perish from the earth.
Or by Churchills war speeches as he stood alone against the onslaught of Hitler, The Third Reich, Gestapo, blue eyed and blonde Aryan superiority racist Nazism hypothesis, Holocaust, Mussolini and Hirohito, fascism ! and an A xis of Evil:
I would say to the House, as I said to those who have joined this Government: I have nothing to offer but blood, toil, sweat and tears......
....our policy is to wage war, by sea, land and air, with all our might and with all the strength that God can give us.....against a monstrous tyranny never surpassed in the dark, lamentable catalogue of human crime..... You ask, what is our aim? I can answer in one word: It is victory at all costs, victory in spite of all terror, victory, however long and hard the road may be.....
We shall fight on the beaches, we shall fight on the landing grounds, we shall fight in the fields and in the streets, we shall fight in the hills; we shall never surrender, and even...armed and guarded....we would carry on the struggle, until, in God's good time, the New World, with all its power and might, steps forth to the rescue and the liberation of the old.
Stirring words and actions such as these represent the uncanny arrival of the right men and women at the right time to lead, guide and inspire their people and the world to safety. These are the pinnacles of the advancement of human mind and ethics.
THE AWAKENING 1 NATION, 3 SYSTEMS
When I first watched the black and white movie versions of 'The Life of Emile Zola' and 'The Dreyfus Affair' on Malaysian TV, I must have been 17 or so. The anti-Semitic aspect of the Dreyfus saga did not register much with me then though that was the central reason for the victimization of Dreyfus, seen as a pushover by dark and dangerous elements in the admiralty of the French Navy. Most of my classmates and schoolmates, including me, were politically ignorant and naive even at a time when the Vietnam War was raging so close to home and the 1969 race riots, pretty much restricted to Malays and Chinese in Selangor, Ipoh and Penang following the general elections, changed our world! Back then, Kuala Lumpur was part of Selangor; it became the first Federal Territory on 1st February 1974.
B! ut if to day, anyone here says he is ignorant of the Israeli-Palestine conflict or the USA-Iran/Afghan War when Malaysians have justifiably sponsored and boarded flotillas heading for Gaza, and unjustifiably spawned local bomb makers and regional terrorists, that would be the height of ignorance or hypocrisy!
So, as in 1957 and 1969, Malaysia is once again at a crossroads. This time, we are faced with an extremist right wing organization, an NGO which claims to represent an oppressed MAJORITY! Now, isnt that a little odd, if not an awful lot, given they are celebrating the 40th anniversary of the New Economic Policy (NEP)? More than that, the last 40 years has seen the almost complete domination at every level of Government, the Civil Service, Army, Navy and Air Force, Police, Judiciary, the administrative and teaching corps at Government owned schools, colleges and universities and Government Linked Companies (GLC's) such as Petronas, Sime Darby, MAS, Maybank and sports organizations, scout movement and many others, by one group of Malaysians over any other.
Yet, they would have us believe, this has created an unprecedented level of insecurity among the majority that seemingly defies analysis. The NEP was formulated in 1970 to address the charge that indigenous Bumiputra majority in Malaysia only owned some 2% of the economy and to rectify the imbalance therein through affirmative action policies. It was meant to be terminated 20 years later, but never was by ex-Prime Minister Dr.Mahathir Mohamad (1981-2003) who summarily claimed its objectives had not been fully realised yet, though he never disclosed any independent statistics to support his fiat.
Five years later, a leading and highly respected PhD holding analyst and researcher with government resigned his post when his statement that Bumiputras had achieved 45% control of the economy was hotly disputed by t! hen Depu ty Prime Minister, Tun Najib Razak (now Prime Minister). It appears that equity valuations are still stated at original cost and not market values!
After 40 years of NEP, our government claims that the originally loosely stated Bumiputra target of 30% share of economy languishes at just under 20% and that of the 40% of the population classified as poor by international yardsticks, Bumiputras constitute the majority!!
Whose fault is all that? Who is responsible for the gross abuse of the NEP to the extent that it only benefited a relatively few cronies, politicians, insiders, the elite and well-connected businessmen and corporate raiders to the tune of billions of dollars, while the masses ate cake? Who's exclusively been holding the reins of power since 1957? Who takes ownership for the endemic corruption and billion dollar financial scandals, the economic looting and plunder that continues to rock and quake the country?
This has led to vociferous demands amid much public hand wringing, breast beating and self-flagellation, prominently backed by Dr.Mahathir that Bumiputras who perhaps constitute some 60% of the populace, should by some law of inverted logic control and share in 67% of the national cake! The NGO leader and his acolytes aver they have a right to speak up and demand actions based on their view of right and wrong, on any and all issues involving or affecting Bumiputra rights; that they have wide and enormous support from the indigenous heartland (wherever that may be) as well as from urban areas.
Many suspect Dr.Mahathir is the real brain-child and power behind this NGO whose public leader gained a parliamentary seat standing as a candidate under the banner of Malaysias opposition religious party, PAS, then defected and now operates as an independent MP. Apparently his friendly overtures to the ruling party were roundly and pointedly, ignored!
Accusations have also been hurled against the ruling party that they have outsourced their extremist ri! ght wing ed elements and leanings to Dr.Mahathir and this new kid on the block NGO, thus killing two birds with one stone - appearing to be a moderate multi-racial consensus party AND portraying itself as the only party capable of dealing with overt chauvinism and extremism.
The stance and line of attack of Dr.Mahathir is very clear:
1. The Ruling Party is no longer capable of protecting Bumiputra rights.
2. NEP should continue indefinitely until they and only they say, enough.
3. Their demands are backed by Special Rights clauses enshrined in the Federal Constitution.
4. The award of citizenships to immigrant populations in 1957 was an act of sabotage by the departing colonial British administration. That this somehow created what is in reality a 2nd class citizenship and a Social Contract whereby these immigrant citizens, their children and the children of their children ad infinitum will not question their government, ever, even if the Flames of Valhalla were to engulf them.
5. "Others" should not question anything to do with NEP, its cost or who bears it in what proportion even if there is blatant abuse of it. (This implies the NEP exists only to rectify the economic imbalance among one group of Malaysians and not all, through affirmative action policies which are not defined).
6. Demands by other Malaysian citizens as to their Constitutional rights is not quite cricket, as by virtue of the (iffy) Social Contract they are 2nd class citizens!
7. That Opposition political parties such as multi-racial Democratic Action Party (DAP) (unlike the major component parties of the ruling Barisan National (BN) where memberships are by race) are anti-Bumiputra, anti-Islam, anti-Federal Constitution and anti-Monarchy (anti-Sultans). That DAPs malevolent and treasonous "secret" master plan/agenda is for the Chinese to re-colonize Malaysia with help from Lee Kuan Yew and Singapore to eventually turn it into a vassal and protectorate slave state of China.
8. If not, multi! -racial opposition Parti Keadilan Rakyat (PKR) or People's Justice Party, is anti-Monarchy, pro-Israel and Pro-Zionists. It will turn Malaysia into a Republic and the 51st state of the USA, which, being ruled by proxy by Israel (as revealed so swimmingly by none other than Dr.Mahathir), in reality means Malaysia will eventually be controlled by the Jews and their Diaspora!
J'ACCUSE III
Now we can clearly see in all its glorious nakedness the intentions of Dr.Mahathir, the new NGO, the ruling party and its MSM in the incessant demonization of DAP and PKR and its leaders. Attack is the best form of defence and when in doubt, play the man, not the ball (A big lie when repeated often enough eventually will be accepted as the truth - Nazi Joseph Goebbels). Ooh, you are about to be re-colonized in your own land by the minority and their foreign imperialistic allies! Boo, beware, or else your children will only be fit to be gardeners, chauffeurs, taxi and bus drivers, office and messenger boys, coolies and keranis (clerks)!
That it should fall to a non-entity, the little guy, the nobody, the small time blogger to sound the nation and the world, raise the cudgel and hopefully strike a blow for reason, freedom, truth and justice to prevail is a little worrying. All these people whom I revere and whose names I have sprinkled about as though I can claim a right to be associated with them - Washington, Lincoln, Churchill and Zola, oh Emile Zola, I ask for their forgiveness.
I am once again drawn to the 1776 American Declaration of Independence:
..That whenever any Form of Government becomes destructive of these ends, it is the Right of the People to alter or to abolish it, and to institute new Government, laying its foundation on such principles and organizing its powers in such form, as to them shall seem most likely to effect their Safety and Happiness......
But when a long train of abuses and usurpations, pursuing invariably the same object evinces a design ! to redu ce them under absolute despotism, it is their right, it is their duty, to throw off such government, and to provide new guards for their future security.
And so let me begin:
J'Accuse Dr. Mahathir Mohamad of indulging and engaging in demagoguery, of playing to the gallery and playing with fire to drive a wedge and divide Malaysians, pitting race against race, by promoting envy and jealousy.
J'Accuse Dr. Mahathir Mohamad of scaremongering tactics, of and posturing like Enoch Powell who once scurrilously tried to frighten Britain citizens about being swamped by coloured immigrants and of rivers of blood! All this to mislead our people into thinking the ruling party is ordained (by divine right) to govern in perpetuity and there are no alternatives regardless of its excesses!
Let's be very clear. The majority of Bumiputras voting for the Opposition does not constitute loss of political power or control for the Bumiputras. It may be fatal for the incumbent ruling party, but that is not equivalent to a fate worse than death for the Bumiputras. No sirree, not by a long, long way! You see, you need the "consent of the GOVERNED". If you don't have it, you should know where the door is! The Governed today are not the uninformed naive lot that might once have been quietly bled to death by increasingly subtle ponzi and cunning Bernie Madhoff and Goldman Sachs mafia-style rabid conscienceless capitalist schemes!
J'Accuse Dr.Mahathir Mohamad of hypocrisy in ranting about a future government that MIGHT open the floodgates of immigration and reduce the Bumiputras to minorities in their own native land. There is also something quite amiss, something not quite right when Dr.Mahathir is himself actually the son of either 1st or 2nd generation immigrants from Kerala in India. Dr.Mahathir was the presiding prime minister when identity cards were issued by civil servants to illegal immigrants in Sabah attempting to re-engineer the population mix there. It was he who opened the d! oors to foreign labour and maids and then offered amnesty to a million illegal immigrant workers. Today, it is conservatively estimated that there are about a million illegal immigrants each in peninsular Malaysia, and Sarawak and Sabah.
J'Accuse Dr. Mahathir Mohamad of doing this deliberately and not caring a jot as to the consequences of such actions. In a tinder-dry atmosphere of his creation, when embraced by immature minds and opportunist politicians, such irresponsible utterances, writings and actions can prove to be the flash point for conflagration as in 1969! The highly intelligent Dr.Mahathir is not aware of it? Only too well, I suspect!
J'Accuse our successive governments of allowing the separate arms of a democratic state to deteriorate and be compromised as to their honesty and integrity to the greatest detriment of its people. Corruption and economic looting have been permitted to flourish and their perpetrators, to enjoy the fruits of their ill-begotten gains and escape scot-free!
J'Accuse our government of selective prosecution and double standards. Thus, an opposition MP is prosecuted under sedition laws for merely making a factually correct statement that a Sultan can be sued by law. Reporters and opposition politicians are bafflingly arrested and sequestered under the Internal Security Act (ISA) "for their own safety" based on unfounded rumours about an insult to Islam traceable to a blog posting by a ruling party MP and ex- State Chief Minister. Pro-government newspapers blow the conch for unreserved retaliation without verifying an iota of fact! A cartoonist, because his drawings are seen as anti-Government, has his books confiscated and banned under the repressive 1984 Printing Presses and Publication Act (PPPA) promulgated by Dr.Mahathir.
On the other hand, a government MP is let off with a slap on the wrist for referring to some citizens as immigrants, most of whom are 2nd and 3rd generation citizens or older! As too occurred with the prime minis! ter defe nding his political aide who was forced apologise and resign amidst public furore and outrage over a racist speech rant that the mothers of Chinese immigrants came to Malaysia as prostitutes to sell their bodies, and Indians as beggars! Really, PM Najib, do you honestly believe the words that came out of your own mouth that your ex-aide had not referred to local Chinese and Indians? He was referring to foreign Chinese and Indians who never set foot on our shores? Really? Then, my grandfather was a Caucasian named Ghandhi Mao!
J'Accuse!
THE HOPE
You cling to power, fame, the dismal dregs, trappings and illusion of money, property, wealth and a place in the history books.
I am not judging expecting perfection from you. The Lord alone knows my own weaknesses and pathetic failures.
I demand fair play. I demand justice prevails. Thats all.
And I say all this with great fear. I am no hero. I know no one. If they come after me in the wee hours of the morning because thats what they have learnt from Stalin and Hitler and Idi Ami and Bokassa about how to treat their fellow citizens, I shall go quietly and gently in their Black Maria and say nothing. I shall not give the enforcers any statements or the time of the day. I shall not give in to pain!
I have said what I meant to.
My inalienable right to say it is indisputable.
I have the weight of history in my favour and (I hope) God on my side!
Click here to read more
Letter & Opinion From Joe Public
SPRM tak siasat Dr Mahathir tentang dakwaan seleweng RM100b......
Posted: 08 Jul 2010 10:00 AM PDT
Suruhanjaya Pencegahan Rasuah Malaysia (SPRM) tidak bercadang menyiasat dakwaan Barry Wain dalam bukunya "Malaysian Maverick: Mahathir Mohamad in Turbulent Times" kerana mendapati tiada elemen perlakuan rasuah berlaku seperti yang didakwanya.
Menteri di Jabatan Perdana Menteri Datuk Seri Mohamed Nazri Abdul Aziz berkata selepas meneliti buku berkenaan SPRM mendapati tiada asas berlakunya kesalahan itu di bawah Akta Suruhanjaya Pencegahan Rasuah Malaysia 2009. Beliau berkata demikian dalam jawapan bertulis kepada soalan Charles Santiago (DAP-Klang) pada persidangan Dewan Rakyat hari ini.
Dalam bukunya, Wain bekas Pengarang Urusan Asian Wall Street Journal mendakwa kononnya Dr Mahathir membazirkan sehingga RM100 bilion ketika menjadi Perdana Menteri. Wain berkata semua maklumat tersebut, termasuk dakwaan penyelewengan berjumlah RM100 bilion itu disokong oleh bukti. Antaranya adalah kerugian melalui Perwaja Steel, yang didakwa Dr Mahathir "hanya RM1 hingga RM2 bilion," bukannya antara RM15 hingga RM20 bilion seperti ditulis oleh Wain.
"Dr Mahathir mempunyai memori singkat. Menteri kewangannya sendiri mengemukakan satu laporan audit oleh Pricewaterhouse (Cooper) di Parlimen pada pertengahan 1990-an. Kerugian pada masa itu, saya rasa berjumlah RM9.5 bilion dan ia makin bertambah selepas itu.
"Dia tidak akan senang hati apabila diingatkan tentang perkara ini, tapi itulah kehidupan... Selagi saya (menulis dengan) seimbang kepada dia, dan saya telah terbitkan pandangan dia," kata Wain dalam satu wawancara khas dengan Malaysiakini Mei lalu.
Selain itu, Wain juga mendakwa bahawa bangunan ibu pejabat Umno di Pusat Dagangan Dunia Putra (PWTC) dibina dengan dana awam. Buku itu pernah ditahan lebih lima bulan oleh Kementerian Dalam Negeri dengan alasan untuk mengkajinya. Disember tahun lalu, KDN telah merampaskan 800 naskah buku tersebut di Pelabuhan Klang.
! Dr Mahat hir dalam blognya mengakui pernah berlaku beberapa kerugian dalam tempoh pentadbirannya tetapi jumlahnya tidak pun mencecah RM10 bilion. Beliau juga meminta kerajaan menubuhkan suruhanjaya siasatan diraja untuk menyiasat dakwaan tersebut, tetapinya ia ditolak.
source:malaysiakini
Perkara biasa,kes-kes salahguna kuasa,rasuah yang melibatkan pemimpin2 UMNO/BN serta kroni2 mereka biasa tak perlu siasat. Alasan bukti tak cukup.
Tapi bila kena kepada pembangkan,hilang 5 sen pun SPRM akan siasat,luar dalam dari pagi hingga petang.......
cheers.
See What Barisan Nasional Gotta Say?
Posted: 08 Jul 2010 09:00 AM PDT
ICONS ON THE RUN.
My latest column in the Malay Mail takes a dig at PI Bala, who won't come back to Malaysia to help the authorities but will be flying to Paris on his way "home" to India from London, to help the French authorities investigate some crooks in Malaysia. Bala has become sort of an icon to some Malaysians eversince he vanished from Malaysia two years ago. His press conference in London yesterday was attended by Raja Petra Kamaruddin, another Malaysian icon who left home.
Read the column H E R E.
Letter & Opinion From Joe Public
On Record: First Hand Account of PI Bala's Press Conference in London on the Altantuya Murder Case
Posted: 08 Jul 2010 08:00 AM PDT
Read here for more in Malaysia Today
Quote

"Private investigator P. Balasubramaniam and his three lawyers -- Americk Sidhu, Manjeet Singh Dhillon and Amarjit Sidhu -- held a press conference at the Holiday Villa in London yesterday (7 July 2010).

Much of what was said in that press conference was NOT reported by the media.

This (read below) is some of what transpired at that press conference."
- Raja Petra Kamarudin
What the PI Bala PC revealed, but was NOT reported by the media
by
Raja Petra Kamarudin
Americk kicked off the press conference by telling the assembly that this whole thing started when the PKR Youth leader, Shamsul Iskandar Mohd Akin, lodged a report with Malaysias Anti-Corruption Commission or MACC soon after private investigator P. Balasubramaniams video interview was released on Youtube
(see below)
.
MACCs response to Shamsul Iskandars report was that they would like to meet Bala to record his statement. However, MACC does not know how to get in touch with Bala so they would like to seek the assistance of Shamsul Iskandar in contacting him (Bala).
On reading this statement by MACC, Americk sent MACC an e-mail to inform them that he is the lawyer acting on behalf of Bala and if they need to meet him (Bala) to record his statement then he (Americk) would help arrange it.
MACC replied by saying that they are not prepared to deal though an unofficial e-mail and that all communications must be by way of official letter only. Americk then wrote an official letter offering to arrange the meeting between Bala and MACC so that they could record his statement.
Many months were spent haggling over the venue, date and terms of the meeting. Finally, after ding-donging to-and-fro, it was agreed that the meeting between Bala! and MAC C would be held in the Holiday Villa in London on the 5th and 6th July 2010. MACC said that they would like to make the arrangements for the meeting room in the Holiday Villa London.
However, no booking was made for any meeting room in the Holiday Villa London. Americk then wrote to the Holiday Villa to make the booking on behalf of the MACC and he also told the MACC this. Meanwhile, the lawyers and Bala had already made flight arrangements and hotel bookings so that they could be present in London at least a couple of days before the meeting with MACC on 5th July.
On Thursday, MACC sent Americk an e-mail saying that they would not be coming after all. This was after they had confirmed they would be coming. In fact, they even told the mainstream media that not only would three officers be sent to London but that Balas lawyers could be present in the meeting as well.
The problem was, by then, most had already arrived in London and those who were yet to arrive were already in the plane on the way to London. And the reason MACC gave for aborting the meeting was that they could not record a witnesss statement outside Malaysia, as it would not be admissible in court.
As what Manjeet told the assembly, not only is this not true, but in fact there is a provision in the Act that specifically states MACC can record statements of witnesses outside Malaysia. Furthermore, MACC would have surely done their research before asking to meet Bala, knowing that the meeting was going to be held outside Malaysia.
Balas lawyers could not accept this excuse as a legitimate reason for aborting the meeting.
What MACC said is NOT true.
In fact, it is opposite to what MACC said.
And did not MACC go to a few countries to record statements of witnesses in the Eric Chia-Perwaja corruption case? Furthermore, added Manjeet, MACC is assuming that Bala would not be prepared to go back to Malaysia to testify in court had the need arisen.
If MACC takes action and charges the ri! ght pers ons in court, said Manjeet, certainly Bala would be prepared to testify in court as to what he told MACC on the 5th and 6th July 2010. He would stand by his story and testify in court to support what he told MACC in his meeting with them in London.
Balas lawyers are of the opinion that MACC has missed a golden opportunity to get to the bottom of the Statutory Declaration that he signed and the u-turn he did barely a day later in what has now been dubbed as SD1 and SD2.
When Bala signed his first SD, it took him two months to prepare it. The following day he held a press conference to inform the world about this SD. Less than 24 hours later, he signed a second SD that contradicted what he had said in his first SD. A few hours later, he and his family disappeared. His nephew subsequently made a police report about the disappearance of Bala and his entire family.
And this was supposed to be the focus of MACCs meeting with Bala on the 5th and 6th July 2010. MACC was not interested in the Altantuya murder or who may be behind the murder or whether she was having an affair with certain Malaysian personalities or about bribery involving the purchase of submarines or whatever. MACC wanted clarification from Bala as to his allegation that immediately after signing the first SD he was paid money to come out with a second SD to contradict his first SD.
So it was a very specific issue. It was to focus merely on the allegation that after he signed his first SD some parties paid him money to sign a second SD to contradict his first SD. This was merely an investigation into a crime of corruption committed by certain individuals.
Actually, under Malaysian law, corruption is more than just about money. If you can remember, Anwar Ibrahim was arrested, charged, put on trial and found guilty of corruption although it did not involve any money. His so-called corrupt act was in allegedly abusing his power to get a witness to withdraw a certain allegation against him.
Therefore, in Bal! as case, whether money was involved or not is one issue. Even if no money was involved and even if only what the guilty parties did was to persuade, cajole, threaten, etc., Bala to sign the SD2 to cancel the SD1, that would also be corruption. And in Balas case they used threats plus money to force him to sign the SD2 so that the SD1 could be neutralised.
Of course, MACCs focus should have been wider than that. But even if they narrowed the focus to Balas allegation that after he signed SD1 certain parties abused their power to threaten him and bribe him to sign the SD2, that in itself would be a good start. And we must remember, Bala alleged that Prime Minister Najib Tun Razaks brother together with Deepak Jaikishan, Rosmahs business partner, were the two parties who threatened and bribed him. And, to assure Bala that this came from the highest office in the land, they offered to arrange breakfast between Bala and Rosmah Mansor, the Prime Ministers wife, now given the official title of First Lady of Malaysia, although she is actually Najibs second rather than first wife.
Bala said he was promised RM5 million but received only RM750,000. And to support this allegation he had prepared copies of his bank statement, pay-in slips, etc., which he was going to hand over to MACC on 5th-6th July. None of the members of the media who attended the press conference on 7th July 2010 asked to see these copies.
I would have imagined they would have all been curious to see whether Balas allegation that Deepak Jaikishan had paid him RM750,000 could be proven or not.
I saw the copies of these documents and what I saw certainly supports the allegation that Deepak had paid Bala RM750,000. The dates and amounts reconcile with what Bala alleges. No one else, however, was concerned with the evidence. And considering that MACCs focus and the statement they wanted to record from Bala centers on the allegation that he was bribed plus threatened to sign the SD2 to cancel the SD1, then the key to the entire iss! ue would be whether Bala has any evidence that Deepak paid him RM750,000 and if he did then for what purpose and on whose instructions.
Everyone shouts about wanting to see the smoking gun. They want to see hard evidence that there is more than meets the eye and that the two police officers found guilty of Altantuyas murder had acted on instructions from certain forces in the corridors of power. This smoking gun does exist. But it does not exist in the literal sense. It exists in the form of certain evidence and documents that all leads to the door of those who walk in the corridors of power.
It is unfortunate that MACC called off the meeting which, as Americk said, was a golden opportunity for them to get to the truth. It was equally unfortunate that the media did not demand that Bala prove his allegation that he was threatened and bribed into signing his SD2 with the purpose of contradicting his SD1. He did have the proof. But, somehow, no one wanted to look at it.
Americk told the assembly that MACC cancelled the meeting by sending him an e-mail. At the beginning of this whole thing, MACC had said that they do not deal through e-mails. All communications must be by way of letter to make it official. If by e-mail then at best the communication would be regarded as unofficial.
But then, when MACC cancelled the meeting, they did not send any letter. They sent Americk an e-mail. By MACCs own standards, this would make the cancellation of the meeting as unofficial. Why did MACC not dare send Americk a letter to officially cancel the meeting? Why unofficially cancel it by sending an e-mail?
This was one more point raised by Americk. MACC had always demanded that all communications must be in writing and must be by way of official letter. Then, when they cancel the meeting, no longer need it be official and by way of letter. A simple and unofficial e-mail would do just fine.
After cancelling the meeting, MACC sends Americk a letter asking that Bala reply to a few questions. ! The lett er is marked RAHSIA, which means it cant be revealed to the public.
Now, there are two things wrong here. First, if Balas statement cant be recorded outside Malaysia because, as the MACC said, it would not be valid, how then can Balas reply to their questions be valid since he is replying also from outside Malaysia? Whether the MACC officers come personally to London to meet Bala to record his statement or whether they send a letter to London with a list of questions for him to reply to, would not the same thing apply -- that is, both are done outside Malaysia (in London)?
Secondly, the letter is marked RAHSIA. That means if you are in possession of a copy of this letter in Malaysia then you are guilty of a crime. But since MACC sent his letter to London and since, in the UK, Malaysias laws do not apply, then there is nothing to stop Bala or his lawyers from circulating copies to the media.
Furthermore, only the letter is marked RAHSIA. Balas reply to the questions in the letter is not marked RAHSIA. So there is nothing to stop the media from publishing Balas replies even though they may not be prepared to publish the questions lest they fall foul of the Malaysian government.
Americk told the assembly that he is halfway through preparing Balas replies and he held it up for everyone to see. No one asked to be allowed to look at it though. They did not appear interested to know what MACC was asking and what Balas replies to these questions are.
Bala and his three lawyers said many other things during the press conference. Some were just reiterating what he had already said before and some were new information. The new information that could be considered interesting is that not only are the two police officers who murdered Altantuya linked to the Prime Ministers office, but in addition to Musa Safri, Najibs ADC, we now have Nasir Safar, Najibs personal assistant, who was at the scene when they picked up Altantuya in front of Razak Bagindas house.
The point Manjeet ! was maki ng is that it now looks like all those who are somehow involved in Altantuyas murder work for Najib. We have his police bodyguards, his ADC, his personal assistant, and his best friend and adviser. Can it be mere coincidental that all these five people who are linked to Altantuyas murder all work for Najib?
Balas lawyers also pointed out that the police detained Bala for 14 days under a section of the law that is used for those suspected of murder. This means Bala was a murder suspect and was being remanded for a murder investigation.
However, earlier, the Attorney General announced that only three people are involved. So, if Bala was being remanded for suspicion of murder then it cant be only three people who are involved because Bala would be the fourth person.
Why announce that only three people were involved in Altantuyas murder and then detain Bala for suspicion of murder? Was this to frighten Bala so that he would cooperate and agree to whatever the police wanted?
Balas lawyers told the assembly that the police recorded Balas statement no less than five times. They took five statements from Bala over the period of the investigation. The police then edited Balas statement and made him sign the edited statement.
This is illegal. The police are not supposed to edit your statement. Worse, they are not supposed to force you to sign a statement that the police drafted and which is not what you actually said.
But Bala was facing a charge of murder. At least that was what he was being remanded under. So, if he wants to be set free and allowed to go home then he has to agree into signing this edited statement although that was not his statement but what the police conjured.
When Bala signed his first SD, it was consistent to his statement to the police. In other words, what he signed in his SD1 is exactly what he had told the police. The police already knew what Bala had signed in his SD1 because Bala had already told them exactly the same thing.
This ! was just some of what was revealed in the press conference yesterday and which the newspapers and online portals do not seem to want to report. Why they would rather keep silent on all these issues and instead just report that Bala said Razak Baginda is not guilty of murder is beyond me. For all intents and purposes, that was merely Balas personal view or suspicion and was not what the press conference was all about.
The main focus of the press conference is that Bala was prepared to have his statement recorded by MACC, and that he would have offered them evidence that what he signed in his SD1 is true, and that this is exactly what he had told the police, and that he was threatened and bribed into signing the SD2, and that he can support this allegation with documents.
This was lost to the media people who attended the press conference yesterday.
The PI Bala interview on Youtube
Part 1: http://www.youtube.com/watch?v=uXX0l1V_Ms4
Part 2: http://www.youtube.com/watch?v=vZdiTk48400
Part 3: http://www.youtube.com/watch?v=1tVzHDuyzyE
See What Barisan Nasional Gotta Say?
Posted: 08 Jul 2010 07:00 AM PDT
A week ago, I contemplated to quit blogging for good. It was easy to call it quits but doing it is another matter all together. The numerous emails, comments on my blog and calls asking me not to quit really humbled me. I really did not expect it. It was a total surprise. I must say that the encouragement that I had received in various forms and content has made me realized that my writing had touches so many people.

Honestly it was indeed an honour that is worth more than any medals that I got on my chest when I served the Army. It is probably the hardest decision I had to make in my lifetime. I find it hard to betray the support and the encouragement that I received from many people that I dont know. One lady that I hardly know told me at Giant Supermarket today that my writing is equal to the voice of more than 1000 residents of BA. That is what she says but I dont know if it is true. I only know that what I wrote is from my heart. Maybe she is right! In any case, I thank everyone for the kind words and encouragements that had been pouring in past week.

Like me, I believe the MACC also had a tough time in during the last one week. They had a difficult decision to make when their trip to the UK was curtailed at the very last moment. I thought the MACC movement is free from any encumbrances. I thought that they are independent. I guess I am wrong. In any case, I feel taking Bala statement is not the top most priority at the moment. After all he is living thousand miles away in comfort. It goes without saying that there are people who are investing in Bala. The government would like to portray the scenario that it is the opposition party or its leaders are doing so. I am not too sure.

Hasnt it occurred to anyone that probably the guilty party wants to ensure that Bala continue to stay overseas and that his statement is not recorded? It is probably that the guilty individual is sponsoring him there ! till thi ngs simmers down. It is going to be an expensive affair for the investor as it seems no one is letting this issue blows over. People are continuously being reminded of the grizzly murder.

In my previous writing I had a strong suspicion that Razak Baginda is not guilty in the murder. His only guilt was probably concealing evidence and having an affair behind his wife. It is my belief that he was merely a patsy or a better word would be a diversion. Rather than MACC spending money on such a long and expensive affair, I think they should focus on the issues where the answers are available locally.

They should investigate why the motive for the killing was not established. Why didnt the police or the MACC establish the reasons on why two unrelated UTK personnel went out of their way to blew up Althantuya? What was their beef with her that they had to destroy her in such a manner? Why wasnt any investigation done to establish the truth about the allegation of the missing immigration records? Why didnt the immigration came clean on this matter publicly? Is it purely coincidence that people who have access to PM or close to PM are mentioned in this case?

Even our MPs are not asking it clearly. They went around the bush and off course they did not get any decent answers. Honestly I am appalled at the MPs that we have on both side of the Dewan. They dont seem to be interested in finding out the truth. The truth seems irrelevant to them. Dont they realize that the PM name must be cleared once and for all for this country to move forward? MACC should start doing their work in Damansara as well as in Sungai Buloh Prison, if the famous duo is still there!
Letter & Opinion From Joe Public
Posted: 08 Jul 2010 06:00 AM PDT
Technorati tags: Islam, Conservatism, ESQ, Third Power Column, Malaysia, Indonesia
It all started with an e-mail Walski received from his good buddy. In the e-mail, said friend included this link, and a short message: Its good to know that the Fatwa committee has reliable sources for decision making. Thank Lucifer for Christianity for Dummies.
The link, as it turned out, was to a recently gazetted Federal Territory (Wilayah Persekutuan) fatwa about the ESQ Leadership Training, and similar understanding (you can also download a copy from here).
Walski, being of sound and inquisitive mind, decided to dig a little deeper into the fatwa, which appears to have been gazetted on June 17th, 2010. It is authored by the Mufti for the Federal Territories, Datuk Hj Wan Zahidi Wan Teh, who also happens to be the same mufti that got himself embroiled in the controversy surrounding Mohd Saiful Bukhari Azlan swearing on the Quran in 2008 (via The Star). He also happens to be the author of Malaysia adalah sebuah Negara Islam, a publication by the Ministry of Information, way back in 2001 thereabouts, which caused quite a stir at the time.
Heres the odd bit ESQ Leadership Training, formulated by Dr. Ary Ginanjar Agustian, has been around in Malaysia since 2006, and its client list not only reads like the whos who of corporate Malaysia, but the program has been extensively administered in several state and federal level Islamic departments!
If thats not odd enough, ESQ has its own Syariah and Faith-compliance panel, comprising of:
Dato Mustafa Abdul Rahman - former Director General of Jakim (panel chairman)
Tan Sri Abdul Kader Talip - former Federal Territories Mufti (making him Wan Zahidi's predecessor)
Dato Paduka Sheikh Hasbullah Sheikh Abdul Halim - former Mufti of Kedah
Dato Hj Nooh Hj Gadot! - forme r Mufti of Johor
Dr Adnan Mohd Yusoff Dean for Quran and Sunnah, Universiti Sains Islam Malaysia.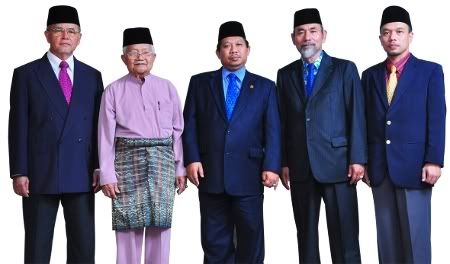 ESQ Training Malaysias Syariah Panel (from this press release)

If nothing else, a very impressive line-up of the Malaysian Islamic bureaucracy, whom Walski is very sure know their syariah. Now, would you logically expect such a line up in the panel if the ESQ program were heretical?
(some justifications, lots of rebuttals, and more, in the full post)

But logic, in fact, is one of the things that the Federal Territories fatwa takes issue with (translation by myAsylum).

(v) menjadikan logik sebagai sumber rujukan utama. Ini bertentangan dengan akidah Islam yang menetapkan bahawa Al-Quran dan As-Sunnah sebagai sumber rujukan utama

(v) using logic as the main resource for reference. This contradicts with Islamic belief that has determined the Quran and Sunnah as its main reference resource
(source: ESQ Fatwa Gazette P.U. (B) 276)

Kind of ironic, if you take another justification (there are 10 of them in all) stated in the fatwa text.

(i) mendukung fahaman liberalisme iaitu memahami atau mentafsir nas-nas agama (Al-Quran dan As-Sunnah) secara bebas, dan fahaman pluralisme-agama iaitu fahaman yang mengajarkan semua agama adalah sama dan benar. Kedua-dua fahaman ini adalah sesat dan boleh membawa kepada kekufuran

(i) supports liberal ideology of freely understanding or interpreting religious texts (Quran and Sunnah), and the ideology of religious pluralism, that is the ideology that all religions are correct and true. Both of these beliefs are astray, and can lead to heresy. !
< span>(source: ESQ Fatwa Gazette P.U. (B) 276)

Many have talked about the creeping conservatism thats been observed amongst the Islamic bureaucracy in Malaysia. Well, for Walski, its not creeping any more were close to being swallowed by conservatism.

The reality is that in todays cleric circles, particularly when formulating fatwa, more emphasis is given to interpretations and analogies of classical scholars the Dead Scholars Society, as Walski calls it. Direct interpretation of scripture is strongly frowned upon. And logic muftis forbid the biggest enemy of all.

Walski wont quote all of the ten justification points clause by clause. Suffice it to say that it epitomizes a very insular and narrow point of view. And you know the worst part? Mufti Wan Hamidi has never even attended any of the ESQ modules (emphasis by myAsylum).

We are trying to reason with the mufti but we havent had any response from him yet, ESQ official Dwitya Agustina said.

Dwitya also told news portal Detik.com she believed Zahidi did not fully understand ESQ training methods because he had never attended any sessions.

The ESQ official site notes that the mufti from Malaysias 13 other states supported ESQ training.
(source: Jakarta Globe article: "Malaysian Mufti Ridiculed for Decree Against Leadership Training Method")

This is only one of the many cases of late, where books and other materials this time an entire training program in Malaysia have been banned, or fatwad against, based on ultra-conservative viewpoints, typically based on little or no information.

In the process, the mainstream Muslim populace, typically raised in an environment of thou shalt not question, who hang on to every religious opinion made by others as if theyre the gospel truth, become more and more ! insular in their outlook. It is this kind of environment that has given rise to a growing conservative society, and fertile ground for groups like Perkasa to flourish.

Just about everyone who has attended these ESQ programs have raved about them being beneficial. One of the most common comments it makes them think. And as everyone knows, a thinking populace is one thats difficult for demagogues to lord over.

So, is this a simple case of Mufti vs. Mufti, or are there other underlying reasons? Walski doesnt wish to speculate, as he doesnt have sufficient information. What he can tell you is that this fatwa has come under criticism from two of Indonesias largest Islamic organizations: Nahdatul Ulama, and the Indonesian Ulema Council (MUI).

Said Agil Siradj, chairman of Nahdlatul Ulama, Indonesias largest Islamic organization, said no religious leader should pass judgement on other groups within the same religion without thorough knowledge of the issue.

This just goes to show how narrow-minded the mufti is being, he said.

Said added that Islamic teachings could only be deemed misleading if they rejected any of the five pillars of the religion the recognition of only one god, praying five times a day, fasting during Ramadan, performing the hajj, and giving alms.

If ESQ taught people to pray only four times a day, for instance, then it would be right to speak against it, he said.

But what they teach is already available and acceptable in mainstream Islam.
(source: Jakarta Globe article: "Malaysian Mufti Ridiculed for Decree Against Leadership Training Method") The Indonesian Ulema Council (MUI) has denounced an edict issued by a Malaysian mufti declaring Islamic-based motivation and training methods developed by an Indonesian heretical.

MUI chairman Amidhan told! The Jak arta Post on Wednesday the fatwa issued by a Malaysian mufti to declare the widely-popular Emotional and Spiritual Quotient (ESQ) training program heretical was exorbitant.

The ESQ method is very advanced and extraordinary. Those who issued the fatwa are just not ready [for such methods], he said.
(source: The Jakarta Post article "MUI rebuffs Malaysian fatwa on ESQ")

Now, you might think that the consternation expressed by the Indonesian religious bodies could be construed as a knee-jerk nationalistic reaction (Dr. Ary Ginanjar Agustian is Indonesian, incidentally). Fair enough.

But heres what a Malaysian cleric, Datuk Hassan Ahmad, Mufti of Pulau Pinang, had to say (translation by myAsylum):

Saya telah mengikuti ESQ Training dan saya mendapati pendekatan ini adalah pendekatan yang terbaik dan sesuai pada masa kini. Sebab pendekatan ESQ ini adalah pendekatan berbentuk ilmiah, iaitu berdasarkan daripada ayat Al-Quran, kemudian disepadukan dengan akidah. Walau dipaparkan penemuan astronomi atau ilmu sains dan sebagainya tetapi ia Berjaya dikaitkan dengan keyakinan kepada Allah Yang Maha Pencipta. Bagi saya apa yang dibuat oleh ESQ adalah training terbaik yang pernah saya ikuti.

I have attended ESQ Training and I have found the approach to be the best and most appropriate for today. This is because the ESQ approach is academic in nature, based on the verses of the Quran, and integrated with faith. Although astronomical discoveries, scientific knowledge, and so forth, are incorporated, but it successfully relates back to faith in God the Almighty Creator. For me, what has been done by ESQ is the best training I've ever attended.
(source: ESQ Sharing article)

So again Walski asks, what's the heck is the deal with the fatwa?

For one thing, Walski found out that the fatwa text, in its entirety ! has been around at least since March this year, found in the form of an opinion article at a site called ImranShamsir.com. Now, how did this finally become a gazetted fatwa is beyond Walskis knowledge to comment.

Walski also found this critique about the program, written by Ustaz Zaharuddin Abd Rahman. Although it is not a damning as the fatwa, Zaharuddin has problems with some of the terminologies used, among other flaws hes found. Again, if you were to ask Walski, the point of view is rather conservative, being wary and cautious about every little thing lurking in the shadows that might jump out and eat up your faith.

Remember the Third Power Column hypothesis that Walski made not too long ago? Still not convinced that it is a real possibility? For Walski, this fatwa is another indication of the subtle attempts to make Malaysia a haven for conservatism.

So far, none of the mainstream news organizations have picked up on the fatwa. Or, at least, that Walski has seen. It also makes one wonder why the downplay and silence.

In any case, the direct implication now is that ESQ cannot conduct their training anywhere in the Federal Territories of KL, Putrajaya and Labuan. So far, its kosher everywhere else. Their website has indicated that they are waiting for a decision from the National Fatwa Council.

In that respect, one can only hope the National Fatwa Council will use resources more credible than Christianity For Dummies as part of their rationalization and justification whatever it is that they eventually decide.

~ ~ ~ o O O O o ~ ~ ~

Walskis affiliation disclaimer footnote: The reason why hes blogging about this is because Walski thinks that this is yet another Islamic storm in a teacup. One of the many weve had. And rest assured, Walski is in no way affiliated with ESQ. That said, if you want to! know mo re, you can read up about what the ESQ Training program is about through their website, or through their brochure that you can download from here.
See What Pakatan Rakyat Gotta Say?
Sports betting "off" again: Pakatan flays Najib for confusion
Posted: 08 Jul 2010 05:00 AM PDT
Wong Choon Mei, Malaysia Chronicle
Pakatan Rakyat lawmakers slammed the Prime Minister Najib Razak, who is also finance minister, for incompetency over the recent sports betting fiasco, urging him to be more efficient and transparent in his decisions.
They were referring to the on-off sports betting licence, which up till Wednesday, was a possible on-again. However, with deputy finance minister Donald Lim stepping in to clarify, the latest status now is off-again".
Let's be very clear, Pakatan is against sports betting and this is really very comical. The finance ministry is getting tangled up in their replies to questions because there was and still is intention to hide, MP for Pokok Sena Mahfuz Omar told Malaysia Chronicle.
When the news first came out a few months ago, Najib refused to confirm or deny. For nearly a month, he refused to commit. Then Vincent Tan held a press conference and Najib was forced to say, the finance ministry has not issued any license yet but will wait for public feedback. But what Najib did not say was he had already given Vincent the approval. After that, there was so much protest, he had to announce the license will not be issued. This is very wishy-washy, classic flip-flop.
The buck stops here
Despite having officially shelved the plan to legalize betting for several football tournaments, Najib had told Mahfuz in a written reply on Wednesday that he still has not made any decision yet. But if the government was to award any license at all, Vincents Ascort Sports would be the receipent.
"The government will offer the licence to Ascot Sports Sdn Bhd for bookie services (not including the World Cup 2010) because this company has been given prior approval to conduct the activity. As such, the government feels that, if the sports betting licence is considered, Ascot Sports will have ! an advan tage based on their experience, stated Najibs reply to the questions raised by Mahfuz in Parliament.
Najib's remarks sparked an uproar, with anti-gambling groups bracing themselves to protest against any increase to the already wide number of gambling options available in the country.
However, Donald told the media it was a mistake and that finance ministry officers were responsible for the "human error" in the PMs reply.
The officers just did not go through the answers properly. The officers had prepared the answers earlier. And as you know, there were changes in the events in between, he was quoted as telling Malaysiakini.
Nevertheless, Pakatan leaders were adamant it was Najibs incompetency that confused his officers and slammed him for passing the buck.
When the leader is confused, of course, the followers will be even more confused. Finance is an area where you need crystal-clear logic and strategic thinking. No wonder, Minister in the PMs own Department is saying the country will be bankrupt in 9 years, said Mahfuz.
See What Barisan Nasional Gotta Say?
Agenda Melayu: Menang Sorak, Semenanjung Tergadai
Posted: 08 Jul 2010 04:00 AM PDT
Orang Melayu pernah tinggalkan Dato Onn dalam usaha membawa kemerdekaan, bukannya kerana orang Melayu tidak sayangkan beliau ataupun menyisihkan beliau, katanya sambil menambah, jika perlu meninggalkan beberapa orang demi perpaduan kita kena memikirkan perkara ini.Tetapi lebih manis kalau Datuk Nik Aziz boleh dibawa bersama, tetapi tengok sejarah ada tokoh-tokoh yang baik, kita kena tinggalkan, kata beliau. Di petik dari artikel
Perpaduan Melayu: Kickdefellanikaziz idea nakal, tak wajar sisih Nik Aziz
oleh G Manimaran, The Malaysian Insider.Sudah tiba masanya saya bercakap soal Perpaduan Melayu. Tidak! Saya tidak mahu bercakap soal menyelamatkan UMNO atau satu dua pemimpin yang ditolak massa. Dulu kita sebenarnya tidak bercakap soal Perpaduan Melayu, sebab agenda sebenarnya ialah untuk menyelamatkan kedudukan Abdullah Ahmad Badawi sebagai Presiden UMNO.Kemudian kita bercakap soal Kerajaan Perpaduan, Kerajaan Tanpa Pembangkang. Itu bukan agenda Melayu. Itu adalah agenda mengekalkan Abdullah Ahmad Badawi sebagai Perdana Menteri Malaysia setelah beliau dipaksa berundur sebagai Presiden UMNO.Bagaimana agenda mempertahankan Yang Amat Berhormat Tun Abdullah Ahmad Badawi dianggap agenda Perpaduan Melayu? Bagaimana agenda yang hanya memanfaatkan Kamaluddin Abdullah dan YB Khairy Jamaluddin boleh di anggap membela Melayu?Tetapi agenda Melayu hendaklah di lihat dari sudut-sudut lain. Daripada 222 orang Ahli Dewan Rakyat yang dipilih dalam Pilihanraya Umum Ke 12, komposisi Melayu dan Islam yang berada di dalam Kerajaan Pusat hanyalah 39% sahaja. Sedangkan jumlah keseluruhan Ahli Dewan Rakyat dari keturunan Melayu dan yang beragama Islam ialah 58% dari keseluruhan ahli dewan. Ini beerti hampir 19% Ahli Dewan Rakyat Melayu dan lain-lain Bumiputera Islam berada di luar Kerajaan bersama 17% Ahli Dewan Rakyat Bukan Melayu, Bukan Bumiputera dan Bukan Islam membentuk sebuah Pakatan yang akhirnya menambah sukarnya agenda Melayu dilaksanakan.Dari segi matematiknya, Tuan Guru Nik Abdul Aziz diyakinkan bahaw! a, palin g banyak DAP dan PKR boleh menambah kerusi Dewan Rakyat di dalam PRU akan datang ialah 20 sahaja, iaitu 15 kerusi dari MCA, 3 kerusi dari MIC dan 2 kerusi dari GERAKAN. Ini kerana DAP sudah merampas 26 kerusi majoriti pengundi Bukan Melayu di Semenanjung Malaysia dan calon Bukan Melayu PKR pula sudah merampas 10 kerusi campuran.PAS sekarang memiliki 23 kerusi di Dewan Rakyat. UMNO pula memiliki 65 buah kerusi Dewan Rakyat yang dimenanginya di Semenanjung Malaysia. Jadi PAS ada peluang untuk bertanding lebih banyak kerusi dan ada kemungkinan untuk menang lebih besar dari DAP dan PKR. Tetapi itu adalah hanya kemungkinan.Untuk memperolehi kerusi lebih banyak, PAS perlu menyandarkan nasibnya kepada pemilih Bukan Melayu dan Bukan Islam serta pada waktu yang sama berusaha menyedapkan hati orang-orang Islam dengan menjemput beberapa kerat orang Cina dan India untuk membaca sepatah dua Al Quran kepada orang-orang Islam. Serta beberapa kerat ini menyelitkan pula satu dua nama pemimpin besar Islam dalam penjelasan polisi mereka. Tetapi yakinkah PAS bahawa pemilih-pemilih bukan Melayu akan membiarkan PAS menunggangi mereka untuk menjadikan Parti Islam SeMalaysia sebagai parti tunjang Pakatan Rakyat?Selain 65 buah kerusi Dewan Rakyat yang dimenangi UMNO dan 23 yang dimenangi PAS, PKR pada suatu ketika memiliki 20 kerusi yang dimenangi oleh calon Melayu Islamnya dan Bebas satu kerusi, yang dimenangi oleh Ibrahim Ali atas nama PAS. Ini beerti terdapat 109 buah kerusi yang akan menjadi perebutan orang-orang Melayu Islam di Semenanjung Malaysia.Bayangkan betapa banyak wang, masa dan tenaga orang-orang Melayu yang akan dihabiskan untuk tujuan berperang sesama Melayu. YB Husam Musa berkata dalam ceramah terbukanya di Taman Guru tidak lama dulu bahawa dia akan cari RM20 juta untuk memerangi UMNO supaya parti itu tumbang. Saya sendiri pernah menulis bahawa Husam memberitahu saya dia perlu dapatkan RM200 juta untuk bawa PAS ke Putrajaya. Kalau seorang ekonomis seperti Husam mensasarkan jumlah itu, bagaimana pula puluhan ekon! omis di dalam UMNO?Berapa billionkah yang akan dihabiskan supaya calon Melayu boleh lawan calon Melayu dan tewaskan calon Melayu?Saya ingin berhenti di sini dahulu buat kali ini. Isu ini sungguh menyayat hati untuk diteruskan penulisannya.(Nota: Situasi semasa di Dewan Rakyat, GERAKAN 2, LDP 1, MCA 15, MIC 4, PBB 14, PBRS 1, PBS 3, PRS 6, SPDP 4, SUPP 5, UMNO 78, UPKO 4, DAP 29, PAS 23, PKR 24, PSM 1 dan BEBAS 8)
Letter & Opinion From Joe Public
Posted: 08 Jul 2010 01:00 AM PDT
July 8, 2010
www.thefreemalaysiatoday.com
Jui Meng is PKR Johor Chief
By Syed Jaymal Zahiid
PKR has appointed supreme council member Chua Jui Meng as its Johor chief in a bid to make inroads into the state, a known indomitable Barisan Nasional stronghold.
It is learnt that the anticipated decision was made at the partys political bureau meeting last night. All the top guns including de facto leader Anwar Ibrahim and vice-president Azmin Ali were present.
Chua, a former MCA leader who has served BNs second biggest component party for 35 years, is known to have vast influence in Johor. The former health minister replaces Annuar Salleh.
Anwar in a press conference last Sunday, however, admitted that there might be some obstacle to Chuas mission in Johor, given that his Bakri seat is now held by DAPs Er Teck Hwa.
But the opposition chief said that the veteran politician would most likely be put up as a candidate in the Chinese-majority Muar area where he is known to enjoy strong support.
Meanwhile, FMT was told the revamping of the partys communications department has been deferred to next week.
It is understood that the current communication director Jonson Chong will be replaced by Seri Seti assemblyman Nik Nazmi Nik Ahmad in a move to shore up Malay support.
Chong said he has no problem about the replacement, admitting that he has not been performing. He said the appointment of Nik Nazmi, a young and vibrant politician known to have strong grassroots ties, was a good choice.
Also to be dropped is current information chief Latheefa Koya. Anwar had admitted that Pakatan Rakyat must win over the Malays if it ever wishes to turn its Putrajaya dream into reality.
Letter & Opinion From Joe Public
Posted: 08 Jul 2010 12:00 AM PDT
The current political climate in Malaysia is at its near boiling point. Any wrong move will b catastrophic for the nation. And it is sure o set the people backward from other neighbouring countries.

For a nation that was once prided as the "Rising Tiger of Asia", today we are being sneered by the global village. Our sins of sex, sleaze, greed, abuse of freedom and power, corruption, and the many crimes of omission - all these are getting us into the rut deeper by the day.

In the wake of these turbulent times, our past politicians who rode the high waters of success, benefits and luxury remain indifferent to what is happening within our political deep waters here.

Some of these past politicians are basking in the gains of their spoils here and overseas. Some are milking through their banking networks overseas. Others are basking on the Gold Coast. Many more are in all probability enjoying the sunshine, wine, dine and songs in far away breakaway destinations.

And likewise, others are quietly raking in millions here while the sagas of sin and sleaze build up in a crescendo.

It is about time that all these personalities were identified and exposed. They have a categorical and moral responsibility to speak up and gang up to do something constructive to save this nation.

Let us hope that some responsible blogger or hard working parliamentarian can kick the ball to bring out these past politicians who gained every sen from the rakyat and are today enjoying their ill gotten gains or reaping their fruits of labour while they were in authority.

A silent and indifferent past politicians is nothing more than a traitor to King, nation and citizenry.
See What Barisan Nasional Gotta Say?
taking off from blogging for a few days..
Posted: 07 Jul 2010 11:00 PM PDT
Dear readers,
i am taking a few days off from blogging, till the 16th July, as i am busy with a personal project of my own, a sort of personal research on certain mattes
I will still monitor the comment, but please read through the 1000plus articles while I am away, most of the things written are still very relevant
Thank you ..
Letter & Opinion From Joe Public
All eyes on Paris: Bala can help speed up Scorpenes probe
Posted: 07 Jul 2010 11:00 PM PDT
Wong Choon Mei, Malaysia Chronicle
With the Malaysian Anti-Corruption Commission failing to show up and the London press conference over, private investigator P Balasubramaniam will be making his way to Paris, where he is due to tell French authorities all he knows about Prime Minister Najib Razaks acquisition of two costly Scorpene submarines.
In Paris, he will be meeting the French investigating team on Monday. They have indicated to Malaysian civil rights grroup SUARAM their focus will be on procurement procedures and the information Bala has on the roles played by his boss Razak Baginda and Najib, who was then the defense minister sanctioning the RM6.7 billion purchase from French firm DCNS.
We are quite optimistic that Bala can help to move things a step closer to the truth. Because of the special position he was in, he may possess a few missing pieces of the puzzle and that will help to quicken the entire process, SUARAM director Cynthia Gabriel told Malaysia Chronicle.
It is very important that the probe moves as quickly as possible because it is a multi-tiered process. Once police investigations are complete, it will go back to the prosecutors and then possibly trial. But most importantly, we would stress is that the French authorities make public all of the findings as soon as they can.
SUARAM earlier this year lodged a complaint with the Parisian authorities after the Najib administration repeatedly refused to initiate a thorough investigation, despite public outcry over an alleged RM570 million kickback from DCNS.
This amount was booked by the defense ministry as co-ordination and support fees to a firm controlled by Baginda, who is a close friend of the Malaysian PM and his wife Rosmah Mansor. Bagindas firm, Perimekar, has no record of any previous experience or expertise in submarines care or technology. Both Scorpenes have been delivered, but one has serious malfuncti! ons and still cannot dive.
Scapegoat but for whom?
As in the case of Taiwan, which also suffered corruption in deals struck with certain French defense firms, there was also a murder in the Malaysian acquisition.
A Mongolian translator, Altantuya Shaariibuu, was shot in the head and her body blown up with C4 explosives in a jungle clearing in Malaysia in 2006. Two former bodyguards of Najibs and Rosmahs have been sentenced to hang for her killing but the two men never met her until the night of her murder. This sparked intense speculation that there were master-minds involved. Razak Baginda was also charged for abetting the two bodyguards, but he was acquitted in 2008.
In London on Wednesday, Bala agreed that his former boss was not involved in the murder, but was merely a scapegoat. But he did not say, scapegoat for whom?
As far as I am concerned, Razak is a scapegoat. He has got nothing to do with the murder, said the former Special Branch detective of his then client.
Yes, he (Baginda) was financing her and he had a relationship with her, but as far as I am concerned, he is innocent. In fact, my testimony in court saved him, he said.
No smoke without fire
All eyes are now n Mondays meeting with the French authorities. Malaysians hold little hope that their own government will do anything to revive investigations in either the murder or the kickbacks.
In fact, the MACC which answers directly to Najib - was ordered to reverse an earlier decision to record a statement from Bala in London.
Najib himself has kept quiet on the issue despite public jeering at why he did not insist on an all-out investigation to clear his name.
As the saying goes, theres no smoke without fire. Najib and Rosmah have been implicated in very serious allegations not just corruption but also murder. It is incomprehensible that they do not want to clear their names, PAS legal adviser Hanipa Maidin told Malaysia Chronicle.
Related Story:
SEE HO W MONEY IS WASTED! Scorpene docked again - out of action as problems come back...
Letter & Opinion From Joe Public
Opinion Poll: Seditious & Insulting?
Posted: 07 Jul 2010 10:00 PM PDT
Technorati tags: Opinion Poll, Sedition, Insulting, Istana Negara, Migrant+Worker+Issues
We interrupt the World Cup 2010 posts for something completely bonkers. Well, okay, its a new opinion poll, actually but about something bonkers.
Recently, the news media, particularly The Star and Malaysiakini, highlighted the plight of migrant workers involved with the construction of the new Istana Negara, whose salary had allegedly been withheld.
Well, youd think that highlighting these issues was part of the normal social responsibility of the press, but apparently some parties didnt think so. In particular, Perkasa (yeah, them again), and Senator Ezam Mohd Nor, former PKR Youth Chief whos since left the party.
Which, of course, got Walski wondering what does the general non-politically affiliated populace think is the mere probing of migrant worker wage-related woes seditious and an insult to the royal institution?
And when these kinds of thoughts wander through Walskis mind, you know that a poll cant be far behind.
(the poll, results so far, and more, in the full post)
The poll was launched a couple of days ago, and announced via Twitter. Granted, the number of those polled is small, but the results are no unexpected. To Walski, at least.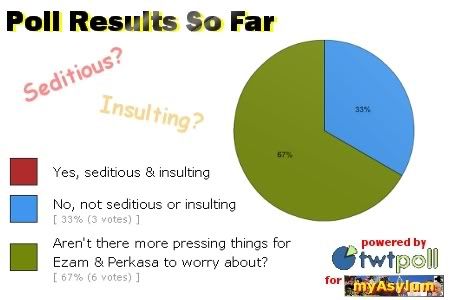 Click on the image above to take the poll, or alternatively at the blog sidebar
So far, no one thinks that either news organization was being seditious or insulting to the institution of royalty. It is true that Walskis tweets, and writing in general, tends to resonate more! with th e more liberal-minded, so the results thus far are probably lopsided.
Which is where you, the reader, comes in please spread the word around so that more people of differing viewpoints vote on this.
Walski has decided to keep the poll open for a whole week-plus more, and will close at the stroke of midnight on Friday, July 16. So, plenty of time for you to pitch your opinion in, and spread the word to people you know to vote as well.
Well talk more about the poll results once the polling has closed
See What Pakatan Rakyat Gotta Say?
M'sia needs a Water Demand Management plan
Posted: 07 Jul 2010 09:26 PM PDT
Malaysians should acknowledge the good work of our authorities in providing, for the most part, a reliable supply of water in our homes and workplaces. Through the years, as Malaysia developed and demand for treated water grew, this was achieved by putting in place an expanding water supply infrastructure.

This included the building of dams and reservoirs, treatment plants, storage and balancing reservoirs and a distribution network of pipelines. And this approach of ensuring water supply is known as water supply management and is a valid approach in the early phase of a nation's economic development. For that, well done and bravo!

However, at some point it becomes necessary to combine water supply management with water demand management not only to ensure a reliable water supply but also to sustain the multiple benefits of our water resources.

When the carrying capacity (i.e. the maximum number of people that a region's key resource supports) of water is exceeded, ecologically, this signals over-development and, doubly, the need to implement an effective water demand management plan.

In Selangor, this stage was reached some ten years ago. Excessive water withdrawal from Sg. Selangor has decimated the berembang trees along the banks, the synchronously flashing fireflies they attracted and the eco-tourism around them that drew thousands of visitors from around the world.

Water demand management refers to the formal set of measures that a water authority implements with the aim of reducing demand for water. For example, requiring that toilets sold in the market meet a minimum water efficiency standard and doing the same for washing machines – are measures that could be introduced as a part of a comprehensive water demand management plan.

The absence of a water demand management in Malaysia can be compared to having tens of thousands of drivers on roads that have no traffic lights, stop signs, speed limits, speed bumps, and penalties to guide and regulate traffic circulation – but only ads that advise, "Drive carefully".

So, we have our "save water" campaigns and conferences on Water Demand Management, which star the 'synchronously flashing', big water infrastructure contractors and consultants, but whose goal and craft are to ensure there are mega projects for them at regular intervals.

Sure enough, at regular intervals, our decision-makers initiate prohibitively costly mega projects, like the Pahang Selangor Water Transfer Project, which typically eject indigenous people from their traditional lands and in flagrant disregard of our environmental laws, ruin forever some of Mother Nature's priceless gems.

Yes, save our water, please.
Malaysian F1 Riddle – Why Cosworth and not Lotus?
Posted: 07 Jul 2010 09:26 PM PDT
Whoever made the decision to utilise Lotus' name blundered on one major factor – the F1 cars we are so proud to call ours are not even using Lotus developed engines!
By Delimma
One of my old mates from college dropped by a few days ago to exchange our lives' experiences and to catch up on things, so to say. Whilst I am saddened at his present state of affairs, I am surprised at what he had to say about our Malaysian F1 team.
What shocked me was not the amount of money spent and being spent as well as going to be spent on the team in the years to come if we want to make our team as competitive as the big boys. The real shocker comes from the fact that the team's inception and its brand name poses a riddle which only the powers-that-be can answer.
We have participated in F1 through Petronas over the years, and this year is no exception. The return of Schumi to the F1 active scene is seen as a great marketing ploy by Mercedes to get the fans roaring for something, even if Schumi seems to be beyond his years and domination in F1. Petronas really made a coup d tat in allying themselves with Mercedes GP. Despite their poor season so far, the airtime covering Schumi and the team helps to bring Petronas into the homes of people around the world, and this in my view is the greatest marketing strategy that Mobil, Shell and the big boys have been doing for years.
The question is, do we really need another Malaysian F1 team? Despite claims of patriotism or even the chance to grow our homegrown talent in motorsports, the amount of money used by Herr Fernandez in setting up the new team could have been well spent in key areas such as engineering, design and even race driver training with our current crop of youngsters in Petronas and even in smaller racing circuits. The hurrah surrounding Fairuz Fauzy's inclusion as the reserve driver has fallen flat since he has yet to start a race for the "Malaysian" team! If he is not good enough, he should not even be a reserve driver. If he is good enough, he should be one of the two main drivers. Since the team belongs to a Malaysian (as claimed), the first riddle to answer is, why can't we put a Malaysian on the starting grid?
The frail Alex Yoong himself got a chance to race in F1 (doesn't matter he did badly, he got in!) when the team was not even Malaysian, so why can't Fairuz be given that chance; unless his inclusion is just Fernandez's goodwill gesture to the Malaysian people and government for allowing him to use the Malaysian name in his team. The decision to race a Malaysian rests with the team principal (Sir Tony) and we have to wonder why Fairuz is yet to take a grid position as yet. The team at present is not going anywhere up the standings anyway, so the exposure will do Fairuz a world of good for his future as well as other Malaysian F1 hopefuls.

The second riddle goes to the Malaysian government, whom Fernandez claims fully endorsed his involvement and use of the Malaysian name. We already have a brand carrier called Petronas in F1, so the poor people in the kampongs and hinterlands would like to know why on earth do we need two flag bearers in F1. Wouldn't it be proper just to develop a Petronas racing team rather than form a new one and actively competing against the other? Two heads put together are better than one, we have this saying. Are we now telling people that Fernandez's team will do better than Petronas who has been in F1 for more than 10 years now?
The third and most intriguing riddle should be answered by the government, Lotus and Proton. As we Malaysians all are made aware of, Lotus is a 100% company owned by Proton, even if they still have their own management, direction and competitive edge. So I was shocked to learn that the announcement of the Lotus F1 Malaysian team was not even their idea ... in fact the whole announcement and team naming didn't even go through them, or with their blessing! How on earth can this happen? Lotus asked Proton, Proton asked Lotus, but both parties were in agreement neither gave their blessing let alone approval.
Then I saw the caption of the team and suddenly realised that whoever made the decision to utilise Lotus' name blundered on one major factor – the F1 cars we are so proud to call ours are not even using Lotus developed engines! Instead, as captioned in TV for the world to see, Team Lotus F1 Malaysia is using Cosworth engines. Errr... I am not a rocket scientist, neither am I an engineer, but what on earth is Cosworth doing at Fernandez' Malaysian Lotus F1 team? Are we saying that despite being in F1 so many years ago, Lotus does not have the capability to design and mount its own engines in its cars? I was also made to understand that there is nothing Lotus about the Lotus car anyway, except for the name. I couldn't disagree, how could it when the company is not even involved in the team set up from the very beginning.
I shudder to think if this is yet another episode of Bolehland attitude being practiced by someone who thinks just because he is close to the administration he can do whatever he wants. The fact that Lotus and Proton have not even commented on this issue is perplexing. Of course, the companies' bosses also have to safeguard their steady income, interests and vested interests not only in keeping their jobs but also the perks and extras that come with it. And I pity both Lotus and Proton. Rather than work hard to resolve the escalating production costs (amidst claims that the escalation was to cover certain 'interests') which baffles everyone and throws any synergies or potential partnerships out the window; they are now embroiled in yet another controversy, although not as earth shattering as the Scorpene fiasco which is about to hit the fan.
If there are riddles that can become folklore and legends such as those we treasure from our childhood days; the F1 riddle might make it into a halls of legend just in its first year!
It does not take a 'superman' to handle vote buying
Posted: 07 Jul 2010 09:27 PM PDT
EC's claim that it is not a `superman' to adjudicate (investigate, prosecute and penalise) cases of vote buying gives a false impression that the EC does not have any adjudicating powers.
The reality is that the EC in this country does hold adjudicating powers in many things, such as those under the duties of the compiling the electoral roll (eg it does investigate if voters had died, investigate objections to the electoral roll and impose RM10.00 fine on each objection which is not accepted subsequently) and others under the Enforcement Teams (parties' banners found to be objectionable can be taken down after warnings).
The issue here is: why the EC is not - in this major case of vote buying - carrying out its Constitutional duties to administer the elections on a free and fair basis?
The fact is it does not take a `superman' to handle vote buying, unless the EC takes the view that there is no case. The EC has also raised a number of questionable arguments in defense of its position:
1. The offers were made to a crowd which could include non-voters; But it only takes one voter to satisfy the requirement to establish inducement and it would be difficult for the EC to argue that there were no voters on those occasions - leaving out the media who were there recording the entire occasion;
2. The voters may not vote according to the inducer's wishes. The law does not require the bribed party subsequently to do as required by the inducer. In fact attempted bribery is enough as a crime under the Anti-Corruption Act - and the intention and the act itself was recorded and well established;
3. There is a legal precedent which provides for ministers to make allocations during elections. However there is also the Election Offences Act which prohibit inducement of voters, as well as the Anti-Corruption Act which penalises acts of corruption.
A legal precedent based on specific circumstances of a case may not constitute an exception to the Election Offences Act or the Anti-Corruption Act. There is room to investigate the particularities of the case and in fact, even a legal precedent can be overturned if the view now find such exception objectionable to current sensibilities.
So it seems that the EC was convinced that making allocations by Ministers did not constitute a violation of the laws above - as reflected by the view of the Deputy Chairman of the EC that the PM must have been legally well advised to make his offer as he did in the two by-elections.
So it was not a case that the EC can't do anything about it. Instead it was a case of `no case' according to the EC. The claim that the EC is no legal expert in this case seems odd given that the EC does hold on to a particular controversial legal position rather persistently.
Irrespective of what the law says at the very least, the practice made the election unfair, which is arguably a basis for the EC to act.
So what if the EC is not convinced that there is no legal case or that the fair conduct of election has not been jeopardised? All it takes is for the EC to call for the offending party to stop the act or risk being prosecuted under the law.
If the EC did that there would not be any more abuse of public positions to indulge in blatant vote buying in Malaysia.
After all the EC is the only body entrusted by the Constitution to administer elections on a free and fair basis. The EC have almost unfettered power as a statutory body to carry out its Constitutional duty.
All government organs, including the MACC and the prosecutor's office are obligated to offer their assistance to enable the EC to do its job. The EC does not need extra prosecuting powera to see to it that the elections are carried out on a free and fair basis. It is an international norm where the EC is given the highest authority to administer elections in a free and fair manner.
It does not require any `superman' to do that - just an EC of ordinary men (and women) with integrity.
On the other hand, it takes `superman' powers to not see to the elections being administered on a free and fair basis, and thereby expose the mockery of the international norms of electoral democracy in this country to the whole world!
The writer is the coordinator of Malaysian Election Observers Network.
Why can't Malays unite under PKR?
Posted: 07 Jul 2010 09:24 PM PDT
Deputy Prime Minister Muhyiddin Yassin recently reminded Malays that they have to remain united or face losing political power. But why is it necessary for Malays to remain united under Umno? Can't the Malays be united under PKR?
For 52 years, the Malays have placed their trust in Umno and this party have betrayed the trust bestowed upon them. The majority of the rural poor have remained poor and left out of the economic development while the small minority of Umno cronies has prospered with lucrative contracts and other government licences.
So why should the Malays remain united under Umno as hinted by the DPM when there is a prospect of Malays remaining united under the new banner of PKR?
DPM and Umno are synonymous. They want to remain in power so that they can continue to pillage the nation's coffers. On the one hand they warned Malaysians to do away with subsidies because the country was going bankrupt and on the hand they gave extra allocations of RM500,000 each to their MPs under the pretext they have a lot of money in the government coffers.
As if that was not enough of a contradiction, they then went on a spending spree of purchasing defence equipment to a tune of a few billion ringgit and even speculated that they could have spent another RM800 million building a new Parliament building.
The only explanation is that after 52 years, BN in general and Umno in particular have not changed their way of doing things. They are still mired in their old ways of plotting and scheming to have their hands in every pie so that they can enrich themselves and their cronies at the expense of the rakyat's interest.
There is now a genuine fear amongst Umno's inner circle that their time at Putrajaya is almost up. There is a distinct and realistic expectation that they will be driven from office after the next general election.
And that could possibly explain the earnest compulsion to extract whatever they can from the country's coffers before they make their departure. Perhaps it would be even more appropriate to liken it to a last 'hooray'.
from People2People View by (author unknown)
You are subscribed to email updates from xBlog ☪ Sociopolitics
To stop receiving these emails, you may unsubscribe now.
Email delivery powered by Google
Google Inc., 20 West Kinzie, Chicago IL USA 60610